Let Eland Electric take the mystery our of your communications.
Are communication systems important for your business operations? Telephones, fire protection systems, security cameras, access control, computer and internet all make up the complex communications network in your business. New technology is continuously making our jobs and lives easier. You want to make sure that these systems are installed and maintained by qualified, knowledgeable people you can trust.
Eland Electrical Corporation has over forty years of experience in structured wiring. V.D.V. Electricians are trained to install complex structured wiring to the most current codes and standards of the industry. The wiring is visually pleasing because it is professionally installed in a clean and organized manner. This means that future moves, additions, and changes (MAC's) for voice, data, and video will be easier. It also means the integrity of the wiring will be uncompromised, reducing downtime. In simple English, it saves our customers money.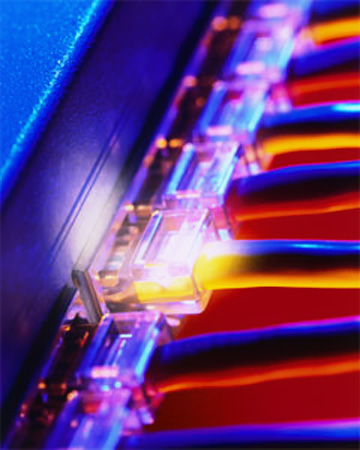 Eland Electric Communications Division Objectives
To provide Structured Cabling and Communications solutions that will meet and exceed System Specifications, Industry Standards, and Customer Expectations.
To implement high quality products and installation practices that set the standards in clean and organized installations. Resulting in high "visual value" at the closet and low add, move, and change cost.
To deliver reliable and trouble free solutions in a timely manner, with a client based customer service philosophy.
Experience – Residential, Commercial, Industrial Voice/Data/Video Communications
40 years overall Structured Cabling experience.
Voice, Data, and Video Horizontal Cabling.
Copper and Fiber Optic Backbones.
Fiber to the desktop.
Speaker system and Paging installation.
Installation of outside plant Fiber Optics, Cable T.V., and Telephone, both underground and aerial.
Telecom closet clean-up and reorganization.
Moves, Adds, and Changes (MAC's) for voice, data, and video.
Cable Certification
Standards & Codes  * Conforming to the following Standards and Codes:
National Electrical Code (NEC)
Telecommunications Industry Association / Electronic Industry Association (EIA/TIA)
National Fire Protection Association (NFPA)
Occupational Safety and Health Administration (OSHA)
What To Do Next?
Our professional and helpful team can give you everything you need to make your project quick and easy. To get in touch, enter your information on the 'Contact Us' page of our website or call our Telecommunications specialist at the number below!
Mike Klister – Voice / Data