Building Trust for Over 50 Years!
Established in 1958, Eland Electric Corporation began solely as an electrical contracting company and over 55 years later it remains at the core of the business. Eland Electric Corporation is a fully licensed, insured and bonded electrical contractor located in Northeastern Wisconsin. Our emphasis at Eland Electric Corporation is building trust through outstanding service and quality to provide you, our loyal customers, with the best possible solution.
Eland Electric Corporation provides service to industrial, commercial, institutional, and residential customers.
The majority of our long term and experienced technicians at Eland Electric Corporation are certified, State of Wisconsin, Master Electricians. Our electricians' various experiences allow us to specialize in a variety of specialized areas. Training and education is an on-going process at Eland Electric Corporation. Apprentices begin with a five year, State of Wisconsin approved, program to ensure they are given all the skills necessary to perform all work safely and competently on any electrical project. This training program combines technical college classroom training with on the job supervised work experience. Upon completion of their apprenticeship, journeyman/ master electricians are required to attend continuing education classes. Many of our technicians have gone into advanced schooling in project management, motor/process controls, automation, lighting design, energy management, communication systems, and solar Photovoltaics.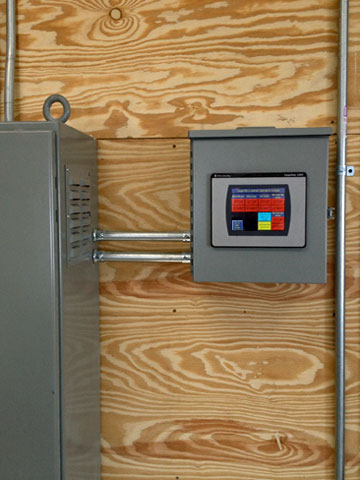 Experienced Technicians
Eland Electric Corporation employs a group of in-house design-build experts with experience to find the right solution for your project. Complex lighting or specialized electrical needs are easily designed, handled, and approved by a State of Wisconsin Designer right at Eland Electric's home office. Our team's expertise and concern for each project is another reason clients continue to come back. Our customers know that the designs will meet all safety standards, efficiencies, and electrical lighting codes, which is another reason why you should want Eland Electric as your electrical contractor.
Scheduled Service
Eland Electric Corporation provides service in Green Bay, Appleton, Oshkosh, Manitowoc, Marinette, Shawano and the rest of NE Wisconsin. For difficult to reach locations, our company can also provide our boom truck to better assist your troubles. Eland Electric Corporation's commitment to you is to provide the services you need at a fair price by people you can trust.
Electrical Division Objectives
To implement high quality products and installation practices that set the standards for safety, efficiency, and durability for years to come.
To deliver reliable and trouble free solutions in a timely manner, with a client based customer service philosophy.
To provide electrical construction and service solutions that will exceed customer expectations.
Services We Provide
Electrical Design / Build Services
Value Added Engineering
Project Management / Coordination
Remodeling Designs and Installations
Focus on Energy Trade Ally Services
Infrared Scanning and Testing Services
Power Quality Metering and Analysis
Harmonic Analysis
Arc Flash Study Analysis
Lightening Protection Design and Installation
TVSS and Surge Protection
Efficient Lighting Conversions
P.M.P. Preventative Maintenance Programs
System Ground Check and Testing
UPS Design and Installation
What To Do Next?
Our professional and helpful team can give you everything you need to make your project quick and easy. To get in touch, enter your information on the 'Contact Us' page of our website or call our electrical specialist at the number below!
Eric Ahlgrim – Electrical Project Manager